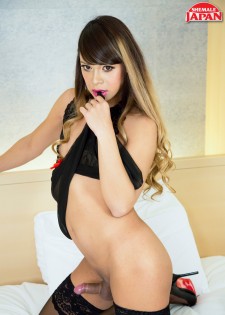 WE JUST can't get enough of 20-year old newhalf sensation Rinka Sanjyo. Everything about this divine young lady just screams "fuck-me" and we are very much enjoying her evolve set by set into the superstar she is fast becoming. Just last week she completed her 2nd hardcore scene over on our sister site Shemale Japan Hardcore so be sure to check that out but for now, get lost in this mouth watering solo display right here on SMJ!
23rd Nov 2016
11:42 HD Video
& 124 Photos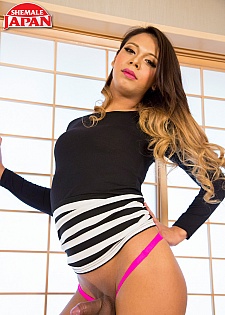 TWENTY YEAR old Tokyo angel Rinka Sanjyo just loves performing for her adoring fans - and why not when you look as goddamn delicious as she does? Exceptional natural beauty with gorgeous eyes, a super tight physique and of course an ample portion of rock hard, tgirl cock up her skirt that she can't wait to whip out and play with in her Shemale Japan sets. A sparkling eighth exclusive for this sexy young sweetheart today - enjoy!
31st Oct 2016
09:56 HD Video
& 121 Photos
THE DELECTABLE Rinka Sanjyo delivers a little something for the weekend in this mouth watering solo scene, as we welcome her back to notch up her 6th exclusive appearance. Twisting and turning for Terry's big lenses on a spiral staircase she pulls her skin tight PVC mini shorts to the side to uncage her glistening big serving of shogun she-shaft before leading us to bed and decorating her sexy tummy with a big load of Japanese girl pearls. Lovely stuff......
6th May 2016
16:35 HD Video
& 99 Photos
STRUTTING her gorgeous ass in a tiny white skirt and heels, Tokyo angel Rinka Sanjyo returns in her fifth showing and once again takes our breath away. Stripping down to her red underwear she unleashes her throbbing girl cock and demands you fall to your feet and worship her. Another top performance from this delectable young model - lets hear it for Rinka Sanjyo!
6th Apr 2016
12:41 HD Video
& 97 Photos
Gorgeous and hot tgirl Rinka Sanjyo has a lot of fun in her pink outfit. She loves showing off for you, as she pulls out her tits and nice big tgirl cock to stroke it.
3rd Jun 2015
14:41 HD Video
& 102 Photos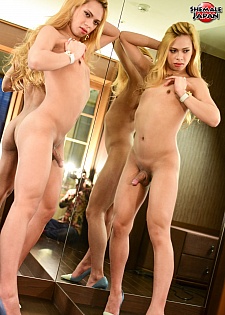 Seductive and beautiful tgirl Rinka Sanjyo has a great time seducing you into her world. She has a great body, long legs, and a nice big tits cock.
25th May 2015
11:24 HD Video
& 94 Photos
Lady in red and beautiful transgirl Rinka Sanjyo has a great time in her business attire. She has to get out of it and show off that hot body of hers. She has natural tits, and a rock hard tgirl all for you to enjoy.
18th May 2015
15:12 HD Video
& 102 Photos