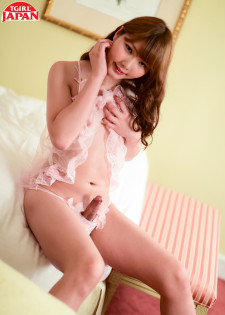 Sexy horny Yume Masuda wakes up and she is horny! Watch this sexy slim transgirl as she slips out of her lingerie and starts jacking her rock hard cock!
22nd Mar 2023
13:00 HD Video
& 116 Photos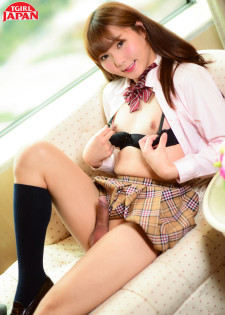 Stunning Yume Masuda is back once again to wow us with her beauty in a sexy school girl uniform! Yume has a beautiful face, a perfect natural body, a great ass and a delicious throbbing cock! Watch this gorgeous Grooby girl jacking off for you!
27th Feb 2023
18:55 HD Video
& 107 Photos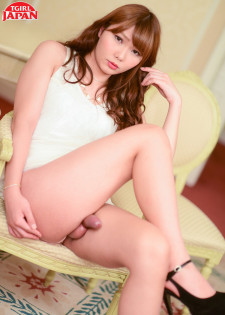 Lovely Yume Masada is another fantastic find by Hiro who makes her splash of a hot number on TGJ today! Young, soft skinned, and incredibly sexy this angelic little newhalf makes an instant impact - letting her big stiff cock bounce out from aside her pretty little panties before lying submissively on the sofa and jerking her perfect length for our lucky members.
10th Feb 2023
13:22 HD Video
& 108 Photos
SAILOR GIRL Yume Masuda is just too cute!! Her radiant natural beauty, that mischievous smile, her pristinely well kept appearance and that body....oh man! Everything about this young Tokyo sweetheart just dazzles and we just know its gonna be a good day when we have the pleasure of unveiling one of her sets to our beloved SMJ members. Wash away your Monday blues now with the adorable Yume Masuda.....
9th May 2016
11:30 HD Video
& 96 Photos
GORGEOUS Yume Masuda is just a vision of newhalf loveliness. Cute as a button with an awesome style and a killer bod that never fails to drive us wild with desires. She's one of those girls that just seems to get finer with every appearance and today's showing is no exception. Strutting her stuff in a teeny mini skirt she opens wide to reveal the pulsating length en-caged within her fishnets before leading us to bed for some sensual stroking action. Enjoy the show....
22nd Apr 2016
14:11 HD Video
& 105 Photos
Wow - Yume Masuda is a beautiful transgirl with a sexy body, small perky boobs, a nice firm bubble butt and a sexy hard cock! See this lovely nurse jacking off!
19th Aug 2015
11:13 HD Video
& 104 Photos