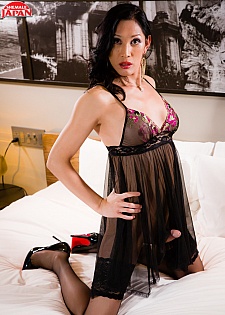 TOKYO ESCORT Julia Winston is one sexy lady! Striking beauty with an awesome physique and a knack for knowing exactly which poses to strike in her work make this newhalf t-milf a dream to watch perform. In her element when dressed in something stupidly sexy and suggestive she just loves to do her thing on film and she never fails to get a reaction in the old trouser department from us. Rounding off another week of Japanese beauties in fine form, Julia Winston is back for set IV......enjoy!
7th Oct 2016
09:55 HD Video
& 100 Photos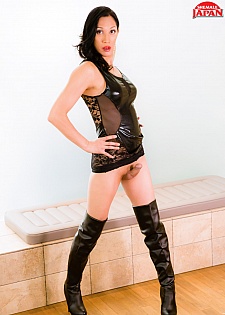 A MOUTH WATERING scene from a Tokyo seductress to round off another week of newhalf mayhem here on SMJ as we unveil the second exclusive solo from the ravishing Julia Winston. Looking captivating in her ultra-suggestive pvc / lace combo attire and those over the knee "fuck me" boots, Julia poses for the camera like she was just born for it as she unleashes that big stiff she-shaft and demands your full, undivided attention. That's what I call a performance - Julia Winston brings the heat, your Friday update from Grooby Japan!
30th Sep 2016
12:37 HD Video
& 109 Photos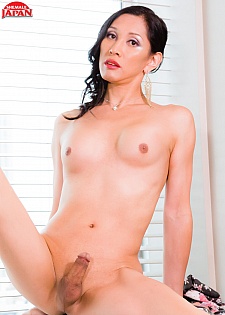 IT'S BEEN some time coming, but we've finally managed to get Tokyo favourite Julia Winston bare naked and jackin' it in her first SMJ solo set! We need little reminding of this glamorous cougar's abilities when she is either pounding a guys narrow ass or herself taking an impaling, so we had a very good idea what she'd be bringing to the table once we secured her solo services. She sure as hell didn't disappoint....Julia Winston takes centre stage for your Shemale Japan Monday wake up call!
19th Sep 2016
10:57 HD Video
& 101 Photos
FIVE MONTHS to the day of making her Shemale Japan XXX entrance, Okinawa mistress Julia Winston is back and dishing out the punishment in this thrilling classroon roleplay fetish-fest! Filling up her insolent students mouth with her hot shogun shaft she then pushes her ass to his face and demands he fuck her puckered love hole with his tongue before whipping down his trousers, bending him over and delivering some first class domme action to his young virgin rear! What a scene.....
6th Jun 2016
31:16 HD Video
& 152 Photos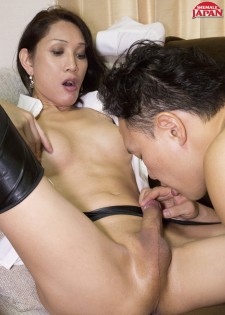 MEMBERS OF our sister site Shemale Japan Hardcore will be all too familiar with the promiscuous ways of Tokyo escort Julia Winston - after she made her November debut there in a ball busting XXX with male talent Rone. Today, she rips up her SMJ intro and she's back up to her slutty tricks - shedding her sophisticated office attire and getting her tight little love tunnel stuffed by her lucky fella's big throbbing shaft - only after partaking in some sloppy mutual felatio first of course! Another rip-roaring, hump day hardcore brought to you by the world's première newhalf erotica site; Shemale Japan!
6th Jan 2016
32:17 HD Video
& 151 Photos